Sonoma Events
December 2018
Chocolate Making: From Bean To Bar
2:00 PM to 4:30 PM
Sun, Dec 16, 2018
Venue:
Hanson of Sonoma Distillery and Tasting Room
Chocolate Making: From Bean To Bar with Chocolatier Sean Taylor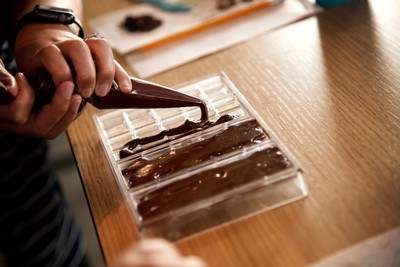 IN THIS HANDS-ON CLASS, CHOCOLATE MAKER, WINEMAKER, AND FERMENTATION SPECIALIST SEAN TAYLOR WILL TEACH YOU THE PROCESSES REQUIRED TO PRODUCE ORGANIC, SINGLE ORIGIN DARK CHOCOLATE STRAIGHT FROM CACAO BEANS!
FOLLOWING ANCIENT CHOCOLATE MAKING TECHNIQUES, WHILE UTILIZING STATE-OF-THE-ART EQUIPMENT, YOU WILL DESIGN YOUR OWN DARK CHOCOLATE BARS USING CACAO, SEA SALT, COFFEE NIBS, SPICES (GINGER, TURMERIC, CAYENNE PEPPER, AND COCONUT), AND OTHER ORGANIC FLAVORS.
ENJOY SMALL BITES, TASTE THROUGH OUR LINE OF VODKAS AND A COCKTAIL WHILE YOU MAKE YOUR CHOCOLATE! EACH STUDENT WILL LEAVE WITH TWO DARK CHOCOLATE BARS, A SMALL BAG OF CACAO NIBS, AND THE DARK CHOCOLATE SQUARES FOR HOT CHOCOLATE. ALSO GO BEHIND THE SCENES AT HANSON WITH A TOUR.

Sausalito Events