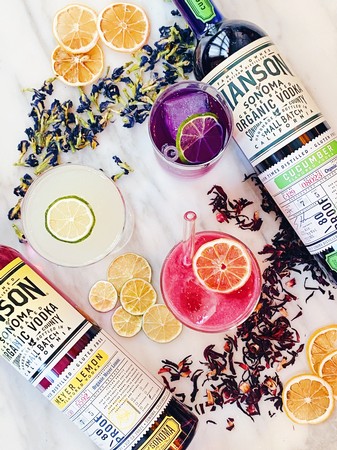 5/28 VIRTUAL COCKTAIL HOUR Science Cocktails Cucumber & Meyer Lemon Vodka
Tune in This Thursday, May 28th from at 5:30 pm for our Virtual Cocktail Hour!
Explore Vodka "Science" Infusions with Fun Cocktails with Founders Brandon and Alanna Hanson!

We will be hosting a cocktail lesson on how to make your own Vodka Infusions with Hanson Cucumber and Meyer Lemon Vodka. We will be making our color-changing Inked Vodka Tonic, Hibiscus Infused Cooler & Cucumber Gimlet Cocktails!
TASTING KIT INCLUDES:

-1 Bottle of Hanson CUCUMBER & MEYER LEMON Vodka

-Dried Butterfly Pea Flowers for Infusion, Q Tonic, Fresh Squeezed Organic Lime & Agave, Dehydrated Organic Lime wheels for garnishes for the Inked Cocktail
-Fresh Squeezed Organic Lime & Agave, Dehydrated Organic Lime wheels for garnishes for the Cucumber Gimlet
-Dried Hibiscus Flowers, Fresh Squeezed Organic Lime & Agave & Dehydrated Organic Lemon wheels for garnishes for the Hibiscus Cooler

-2 Bottles of 4oz Hand Sanitizer
ADD ON
-2 Short Handblown Glass Straws
-2 Engraved Hanson Old Fashioned Glasses