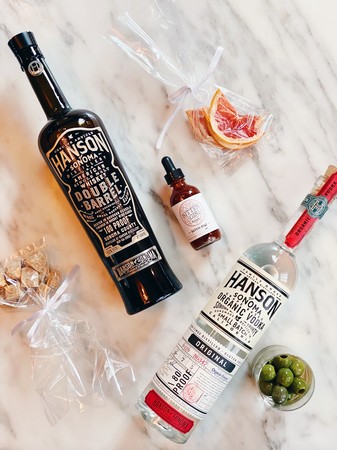 5/7 VIRTUAL COCKTAIL HOUR Classic Cocktails with Whiskey & Original Vodka
Tune in Thursday, May 7th from 5:30-6:30 pm for our Virtual Cocktail Hour! Explore Distillation and Classic Cocktails.
We will be hosting a cocktail lesson on how to make your own Classic Cocktails with Hanson Single-Malt Whiskey and Hanson Original Vodka. We will also dive deep into Hanson Spirits, their history, and background, and how they are made with our Master Distiller.
Hosted by MASTER DISTILLER Chris Hanson and Tasting Room General Manager + Mixologist Krzysztof Pawlik
TASTING KIT includes 1 LIMITED RELEASE Single Malt Whiskey + 1 Hanson Original Vodka
-1 Bottle of Hanson LIMITED RELEASE American Single Malt Whiskey
-1 Bottle of Hanson Original Vodka

-1 Bottle of Bitter Girl Bitters Batch One for Old Fashioned Cocktails
-1 Package of Organic Brown Sugar Cubes for Old Fashioned Cocktails
-1 Package of dehydrated Organic Blood Orange and traditional Orange wheels for garnishes for Old Fashioned Cocktails
-1 Package of Castelvetrano Olives for Martinis

-2 Bottles of 4oz Hand Sanitizer
ADD ON
-2 Short Handblown Glass Straws
-2 Engraved Hanson Old Fashioned Glasses